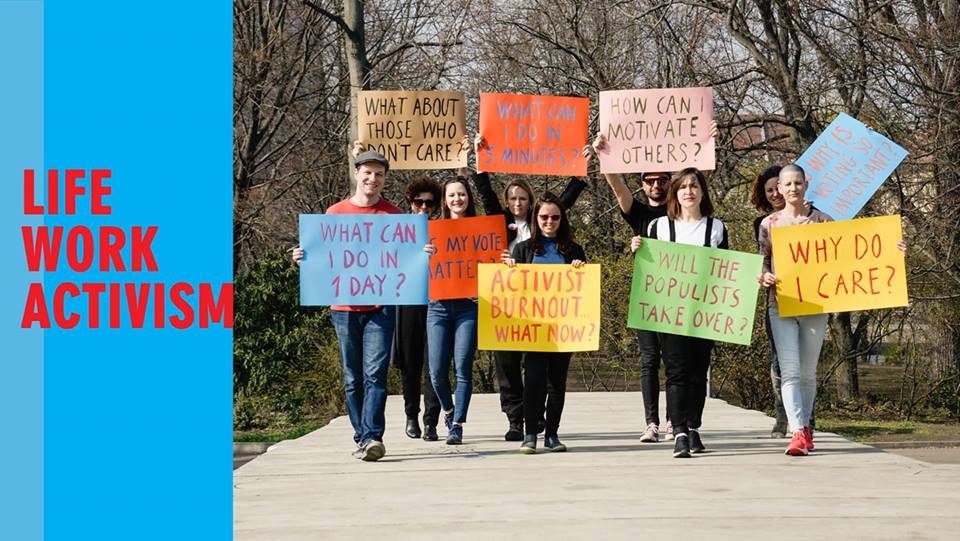 Life-Work-Activism
Political Activism in Emigration – Why campaign for a union?
The Freie Ungarische Botschaft, Dziewuchy Berlin and Diaspora Civica Berlin are inviting activists and activist groups for a conference in Berlin, on the 13th of April 2019, where they can share and discuss their experiences, acquire new tools for change and create something collectively.
Is Brussels too far away? You don't have an idea anyway about how to motivate people to take interest in EU politics? You have a group that shares your concerns, you engage in activism but you somehow can't seem to keep your fellows interested? Balancing your work, your life and your activism is just too much?
We've all been there. Active Citizenship can be hard to master and every step can be a new challenge, leaving you feeling lost and unmotivated. So what could be a solution? Why should we make an effort to do some campaigning for the EP elections? We all have our ideas, strategies, know-how and experiences – let's get together and share them and we might just make something out of it!
This event aims to provide a platform through which attendants can learn how to build communities with the common goal of strengthening democracy and upholding its principles while fostering active civic engagement in their home countries.
The explicit goal of the conference is to bring together like-minded people in emigration who engage in political activism and have prior experience in this field.
Together, we can create an opportunity to build and share, as well as help new alliances to form and cooperate on common projects in the future.
Location: Supermarkt – Mehringplatz 9, 10969 Berlin
Date: Saturday, 13th April 2019
Time: 14 – 18
The participation is free of charge, due to limited space, we kindly ask for registration.
Please register under this link until the 10th April.
Check out our facebook event page for updates.