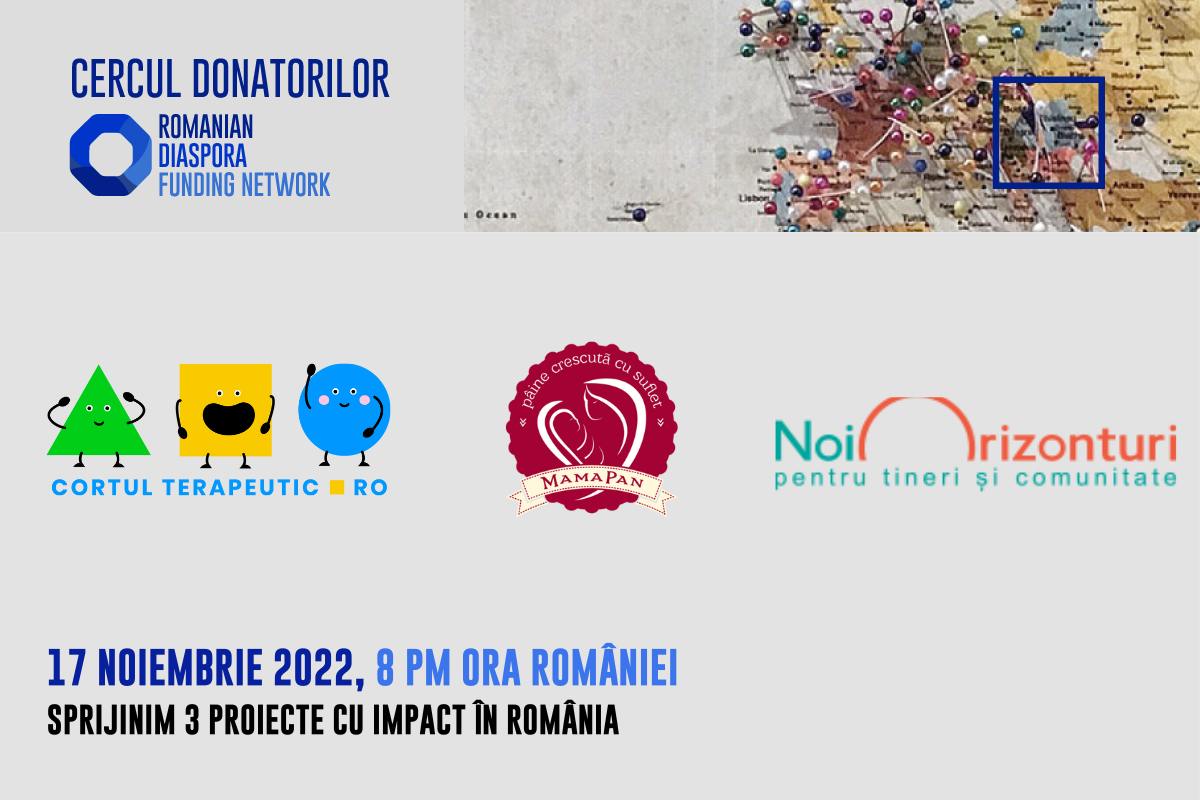 THE DONORS CIRCLE 2022 – ROMANIAN DIASPORA FUNDING NETWORK
The Romanian Diaspora Funding Network Donors Circle returned with its second edition! We joined them online on November 17, 2022, at 19:00 (CET) to listen to the stories of three projects from Romania that address critical and current needs of NGOs that have been working tirelessly for change.
The Therapeutic Caravan (Cortul Terapeutic) represents the only mobile psychotherapy clinic in Romania. The team's objective is to promote psychotherapy and change the general perception of the need to seek help from a psychologist. Visitors had the opportunity to freely discuss with specialists, access supportive materials and information about anxiety, depression, etc., and benefit from two free psychotherapy sessions with psychologists in the cities where the Caravan operates.
The "Școli cu scLipici" project by the New Horizons Foundation aims to support 130 students in preparatory and first-grade classes to develop their minimum literacy skills (reading and writing) at their grade level/age. It targets children from socio-economically and educationally disadvantaged communities and schools with below-average results in national evaluations.
MamaPan – the Sourdough Bakery has been providing professional training in the baking profession and decent job opportunities for women facing difficult life situations: single mothers, Roma mothers, mothers with no access to formal education or professional training, etc., for over 7 years. In order to continue their work, the bakery plans to relocate to a new space that will optimize operating costs and allow for the establishment of a direct sales area for MamaPan's products.
The event was organized in collaboration with the Donors Circle Barcelona, Donors Circle Brussels, Donors Circle Helsinki – Edustudio, Donors Circle London, GRASP Milan, Romanian United Fund, Romanian United Fund – San Francisco.
Together, we managed to raise a total of 10,300 euros for the three projects, with 100 participants.